CGM have invested half a million pounds in new machinery and our processing facility over the last 12 months, this has enabled us to increase production and ensure our work is accurate and efficient. CGM are fast becoming one of the UK's largest stone fabricators. Our experienced team made up of stonemasons, CAD and CAM operators, template and fitters and customer service administrators ensure that your worksurfaces requirements are dealt with professionally from beginning to end.
Digital Measuring:
The beginning of the journey. Our team of templaters will record the measurements and dimensions of your worksurface by a digital measuring device, the ensures accuracy from the start. Once the information has been taken from site it is electronically transmitted to our CAD team for design.
CAD – Computer Aided Design
Our designers will take the information received, check all dimensions, cut out locations for sinks, hobs and other appliances match their manufacturers templates, and ensure all dimensions are correct. Once they are satisfied it is then sent to our CAM team.
Material Selection
During this process, we have a team quality inspection team to check over our material prior to fabrication, in doing this we can ensure that any slab fabrication uses grade A material. We minimize the need to remake pieces by ensuring the material is flawless before it reaches the saw.
CAM – Computer Aided Manufacturing
This is where the design is starts to turn into a machining process. The CAM team start to programme the machines for cutting the material. At this stage we ensure that the design is efficiently nested onto the material to minimize waste and keep costs down.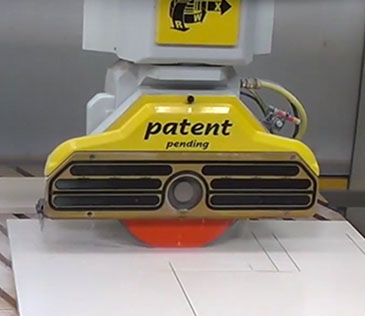 Cutting and CNC Machining
This is where we press the green button, the material is cut to the required design, including joints, edge profiles, cut outs, and specific mitered edges are created for built up pieces and other specialized processing.
Polishing and Finishing
When the material reaches this area of our factory, it is polished and finished off to a high standard. Our Quality Team inspect each individual piece of material to ensure that it leaves our factory in perfect condition ready to be fitted.